Green Design Architecture – Montgomery County, MD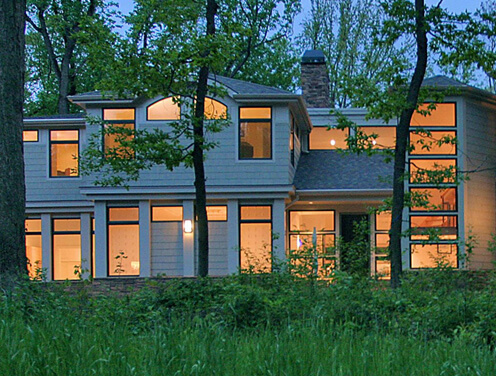 Green Architecture. Sustainability. Energy conservation. These are just a few of the many hot buzzwords in design right now. However, at Archaeon, this idea is not just the flavor of the month. It has been an integral part of Archaeon's philosophy since we opened our doors.
It comes down to this: Everyone wants to save money on energy usage, and (just about) everyone wants to feel good about the types of materials they're using in their home or commercial space, but what's the best way to achieve this? We know that solar and wind may be America's best prospects for clean energy production, but these solutions may not be practical or cost efficient for the individual home owner. This is why we have always suggested to our clients the use of better insulation, energy efficient windows and high efficiency equipment and products, which are the simplest and most cost-efficient options to cut down on bills and reduce energy consumption over time in their homes. And in every project, we look for ways to conserve water and incorporate passive solar design and renewable materials wherever possible. There are many ways to design green, without significantly raising costs in the process.
Our approach begins at the foundation, and focuses on each and every design decision. We all want to reduce our carbon footprint, and there are many simple, subtle ways to do that through the design process. To see more of our green design practices in action, click here.
Green Design Resources: