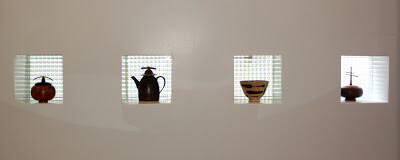 When it comes right down do it, buildings, like people, are more similar than they are different. Just about every building is made from the same lumber, drywall, insulation, plywood & concrete block. So, considering this commonality, what sets a building or space apart? What makes one space special and another, that is ninety percent the same, ordinary and just plain boring. One word: details.
Let's face it, without details most spaces are just painted boxes with a doorway for access and windows for light and air. What makes a space memorable may be the subtle shaping of a wall plane or pattern of cut-outs, a unique built-in, a perfectly situated window, or a special lighting or tray ceiling detail.
But, whatever individual features make a space special, the end result is usually the product of design decisions based on formal considerations, the functional demands of the space, a client's desires and budget, and color, material and textural juxtapositions. Sorry if that sounds like pretentious designer-speak, but I'm not sure how else to say it.
private residence – bethesda, md
So, what is the value of this observation in practical terms? Well, for the home owner considering hiring an architect to design his/her home environment, bear in mind the following:
-Firstly, not all architects are created equal. Some architects have a reputation for doing quality design work, and some don't. This isn't to say that they're bad at what they do – it may just be that design isn't their strong suit. So, before hiring an architect, be sure to carefully review their design portfolio and make certain you like what you see. And, if possible, contact one of their references to see if you can schedule a time to walk through their home. Pictures are great, but nothing really compares to being inside an actual space.
-Secondly, quality design takes time. What this means is, if you're looking to hire an architect, and design is a priority, carefully compare the proposals from the various architects you're considering. Look at their fees, look at their hourly rates, and do the math.
For the sake of illustration, if architect A is asking $2,100 to do schematic designs and architect B is asking for $3,500 to do the same work, and they both charge a hourly rate of $70 per hour, you know right then and there that architect A will not be putting the same amount of time and thought into your project. Architect A simply can't afford to do the same job as architect B without losing money.
To be clear, I'm not advocating automatically hiring the most expensive architect you can find, but I would certainly recommend resisting the temptation to hire the cheapest. Architectural design is like anything else you buy in that, generally, you get what you pay for.
private residence – mclean, va
-Lastly, a word about the merits of hiring a design/build firm. As it regards design: Just don't do it. If a home owner's priority is design, then hiring a design/build firm, whose greatest priority is to maximize construction profits, makes little sense. Design/build firms are more or less run by contractors, and they usually have a staff designer with limited to no freedom of creativity who is largely their subordinate. This typically is not a recipe for good design. A designer should ideally be a separate and independent entity, free to design a project the home owner loves, and also to enforce the details approved by the home owner during construction.
One final word of advice to anyone looking to hire an architect or other design professional. Always remember that it's your decision. You're the one who has to live in the house, and it is being built for you. In other words, no matter how much your best friend may recommend this architect or likes that design/build firm, don't allow yourself to be pressured into choosing a practitioner whose work doesn't suit your tastes.
Building your own house can be a wonderful experience. But, if you're like most people, you're probably planning on doing it only once – so do it right.
Choose a designer that's right for you, and don't skimp on the details.
Good luck.
private residence – mclean, va